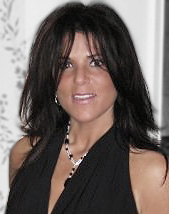 Elisa Wishan is a dedicated, professional, licensed manicurist with more than 29 years of experience. From red carpet events to upscale bridal parties to celebrities' homes to mobile spa parties, she has built a reputation among her A-list clientele for staying ahead of the curve and finding the hottest new trends in nail fashion.
Elisa's lifelong love of nails began at five years old. On Friday mornings, her mother would take her to the salon and they would get their nails done together, side by side. By the time she was 16, Elisa had her manicurist's license…and the rest is history. Over the years, Elisa has developed a robust roster of long-term clientele. From running a full-service salon to working as a freelance manicurist, her career has covered the gamut in the beauty industry. Today, she operates on a mobile basis, which allows her to work on photo shoots, film and television sets, and upscale events all over the Los Angeles area.
Elisa's enthusiasm, professionalism, and warm nature has led her to working with some of the best and brightest in the entertainment industry. Her clients include Chelsea Handler, January Jones, Zoe Saldana, Evan Rachel Wood, and, as an assistant to Deborah Lippmann, many others as well. She has also worked on photo shoots with Russell James, Annie Leibovitz, Nino Munoz, Matthias Vriens, and more. Her work has been seen in numerous commercials, campaign ads, and magazines including GQ, Harpers Bazaar, Latina, Shape, and Vanity Fair.
Elisa is a natural-born perfectionist—and it shows in all the work that she does. Whether it's a pastel pink or burnished black, she has a keen eye for color and an innate sense of style. Her technique is detailed, careful, and thorough. In addition, she uses only the highest quality salon products. Elisa Wishan creates the ultimate experience for those who demand true pampering and the very best nails.